Those of you who had wagered that Tevez would be among the goalscorers tonight (March 21) may have been left a little disappointed, but Manchester City fans aren't complaining right now after their club fended off tough competition from Chelsea to put them just one point behind League leaders Manchester United.
The pressure was on Man City to perform after United picked up a 0-5 win at Wolverhampton last week, but for a lengthy period of time it seemed that they would only pick up the one point, with the score set at 1-1 going into the 80th minute.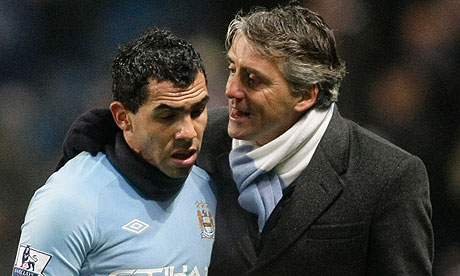 City realistically needed the full three points to remain on the heels of their Manchester rivals and as the match drew to a close they played like they had ever intention of winning them. Tevez's substitution was met with a surprising chorus of cheers and, in the 85th minute, he justified his return to the squad by setting up Nasri with a perfect reverse pass to put City ahead 2-1.
After the match Nasri commented on Tevez's return, saying: "I am really happy for him. He has showed great spirit and today showed he can be really important until the end of the season. It's good that it was him who gave him the assist."
City were left trailing 0-1 in the 60th minute after Gary Cahill put Chelsea ahead, but City boss Roberto Mancini stated after the match that he felt his team deserved the victory, saying: "After their goal it was feeling like squeaky bum time. When they scored I think we didn't deserve to go behind. But we wanted, we desired to win this game."
He also spoke of Tevez's contribution to the game and his match fitness, saying: "I'm happy because he did well, [but] he's not in good form, I don't think he's fit 100%. But that's football."
Aguero equalised for City in the 78th minute before Nasri would seal the victory less than 10 minutes later. The win puts City remarkably close to United in the League who recently knocked blues off of the top spot, a position they had held for four months.
City will next face Stoke City on Saturday (March 24) while United are up against Fulham on Sunday (March 25).