Today seems to be a take of of the disgruntled and angry people. From hating on the heatwave, to Tim and Eric's sibling rivalry the videos being featured on the front page today September 6 are edgy, angry and actually (for the most part) pretty damned funny!
Break – The Jaeger Meister (link)
If you've never seen the techno Viking, then apparently you've just discovered the interent for the first time. Little hint: there's porn on it! – Now for the rest of you familiar with the ancient viral antics of the techno Viking, we've apparently found his great , great, great grandfather… and OMG is he amazing. At first it looks like he's very unhappy to be in the midst of the party. But 28 seconds in and a swig of the magical Jaeger Meister and the party truly beings. Enjoy.
Atom Films – Steven and Stephen: Mom Drawings (link)
My buddies Tim and Eric have this little doozie hitting the front page of Atom Films, as part of their animated series 'Steven and Stephen' about two conjoined twins, who are joined at the crotch.
Meanwhile on FunnyJunk… This:

Youtube – Black Man Angry At Heatwave! (link)
Special thanks to youtube for introducing the world to the comedic wonders of this amazing new joke formula… apparently you take a topic and start with "It's so [blank] that [blank]". Stay Classy youtube.
I wonder if one day this guy will pick up the advance comedy book and adopt to start using "You know you're from [blank] when [blank]"
WebComics
Today on xkcd : Investing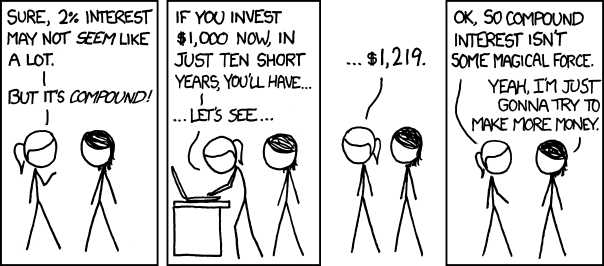 Today on Toothpaste For Dinner: you think its bad now
Funny Or Die – Bang Van Blowout with Nick Swardson (link)
Remember when I told you the interenet ? Well Nick Swardson, is joined by two hotties, Sunny Leone & Alexis Texas to show you just what I'm talking about, and they're not going to let anything stand, crash or explode in their way from a good bang!
This is actually probably the best thing I've seen the FOD crew do since making Don Cheadle Captain Planet. Looks like the writers have gotten a new wind, and are back on track with their sketches… also there's hot chicks in barely any clothes. Now that's comedy!
That's all for the funniest stuff on the web, think I'm missing out on some funny sites or videos? Leave it in the comments below, or tweet me @SamProof
*header image used with permission under CC via Source